Skincare over 40 is a journey and just like people change – so do products. This article was originally written in 2018 and updated in 2022 because I found products that work even better than what I was already using (which I never would have thought possible if I hadn't experienced it myself). **
The day was cold and rainy as my friend Katy and I sat in her living room, legs curled up and hands around hot mugs of coffee. Our kids watched a movie in the other room and we caught up on our lives. Then the conversation paused. She looked me square in the eye as if there was something big on her mind. I mentally braced myself. "I have to ask you something," she said. There was a pause in the conversation as I waited for more… "yes?" Then she asked, "what skincare products do you use?"
I smiled and began to tell her the routine I had adapted for skincare over 40. Then I told her "I'll put up a post on the blog and share it with you."
I'm putting these skincare products in a post because Katy is not the first friend to ask me what skincare products I use. You see, I'm currently in my early 40s but so many people swear to me that I look 10-years younger. While my family does have pretty great genes, I don't think the genes can take all of the credit for the transformation which has overtaken my skin since starting a new skincare routine.
Skincare Over 40 is different than younger years
Did you know that your skin changes when you get into your 40s? I mean, I guess this should be pretty obvious to me but I think I entered my 40s oblivious to this notion.
I'll admit it… when I was younger I could get away with washing my face using my regular bar of soap in the shower. Then about 5 years ago I finally broke down and started using an actual face wash. A year ago it was time to get serious about my skincare. I began to see lines on my forehead and crow's feet around my eyes. I tried to convince myself that these lines were signs of my maturity… then 5 minutes later I decided I was going to fight this aging thing and create a new routine for my skincare over 40.
After growing into maturity, it was time to shift focus away from just washing my face and start promoting collagen and elastin – the pair of proteins that keep a complexion plump. Our bodies start slowing down the production of this in our 20s. I decided it was also time to add those bad boys back into my body and increase antioxidants. Skincare over 40 is all about nourishing our skin.
Honestly I wish I had discovered this skincare routine sooner. It's easy, efficient and provides the craziest most awesome results.
Skincare over 40 should be chemical-free
For most women, part of the morning and evening routines involve a skincare regimen of cleansers, moisturizers, tonics, and lotions. All in the name of beauty.
In fact, the average woman puts twelve products on her skin daily. But did you know most of the products out there contain harmful chemical preservatives? Our skin can't be healthy if we are subjecting it to toxic substances that are ultimately absorbed into our bodies.
So, what's a girl to do? How can we combat environmental pollutants, the effect of solar radiation, and the drying effects of air? How can we be sure we're using the very best products on our skin so we can be healthy inside and out? I did a ton of research, I'm talking YEARS of research. Through all of my research, I discovered skincare products that helped me look younger, but without the harmful ingredients. Since then I have had so many people ask me what I am doing – including my friend Katy – so I am sharing with everyone. Check it out!
Before You Start a Skincare Routine
Before I dive into the skincare product routine I use daily, let me share with you a few other things you can do for radiant skin because as I said earlier, skincare over 40 is about nourishing our skin. We do that two ways – topically (which I'll share in just a moment) and internally. What we put into our bodies matters when it comes to great skincare over 40 and looking younger longer.
Supplements – Supercharge your skincare routine. My favorite is Modere Biocell. This product is a liquid you drink twice daily and it's delicious! I call it my "treat." It's got Collagen/HA Matrix® Technology plus ceramides, high-potency vitamin C, and 19 phytonutrient-rich foods including pomegranate, bamboo, and green tea. Learn more about it here. Honestly, I firmly believe we can only have great skin if we are nourishing and taking care of it inside and out.
Stay Hydrated – Nothing leads to worn-out tired skin more than being dehydrated. For many people, it's a challenge to drink water. If that's you too – then check out our article 6 Amazingly Useful Ways to Drink More Water.
Workout & Sweat – working out will get your blood pumping and circulating which is great skin. Sweating will help your body release unwanted toxins. Even just a few minutes a day can help.
Eat good food – the old saying goes, garbage in means garbage out. Yes, you can get great skincare results without eating well. BUT, you can get even greater results if you choose carrots over carbs and make lasting changes in food.
Now that we've covered the basics, let's talk about that Skincare Product Routine. We'll start with a morning routine and then give a night routine.
Morning Skincare Product Routine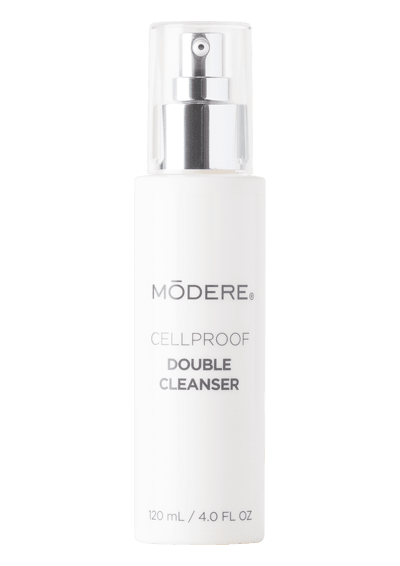 STEP 1
Modere CellProof Double Cleanser
Modere's CellProof Double Cleanser is a two-in-one serum to a foam face wash that targets makeup, sunscreen, and excess facial oils with carefully selected plant-derived oils. Add water it transforms into a purifying microfoam gently rinsing away pollutants while balancing your skin leaving you feeling clean but not dry or tight!
BUY Modere CellProof Double Cleanser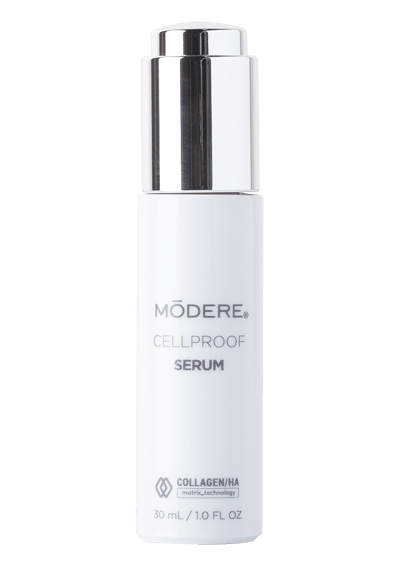 STEP 2
Modere CellProof Serum
This product is pretty amazing! It visibly firms, tightens and tones skin almost instantly with results in less than five minutes. That means I don't have to take a lot of extra time for this start rejuvenating my skin. Quickly I go from dull to radiant simply by applying this lightweight serum. Plus I have added confidence because this is a clean label formula which means none of the bad stuff.
BUY Modere CellProof Serum
STEP 3 – Modere® Antioxidant Gel
After the CellProof Serum from step 3 has dried, I apply this antioxidant gel all over my face. It's remarkable! It takes away shine and acts as a super nutrient primer with its vitamin-rich formula. It reduces the appearance of pores and fills in fine lines so they become invisible. Its lightweight, concentrated & water-free formula delivers incredible complexion-enhancing benefits. It disappears into the skin instantly and goes on smooth, plus it acts as an environmental barrier. I could talk all day about how much I love this product!!
BUY Modere® Antioxidant Gel & save $10 when you use this link!
STEP 4
Modere® Dual Action Eye Gel
Our eyes are one of the most sensitive areas of our body and they also show aging the quickest. That's why this step is so crucial. I pat this dual-action eye gel on my under eyes and eyelids. This eye gel protects the naturally thin and delicate skin surrounding the eye by promoting firmer, resilient-looking skin. An extra bonus,… it minimizes the appearance of dark circles, puffiness, and fine lines around the eyes
BUY Modere® Dual Action Eye Gel & save $10 when you use this link!
I realize this may seem like a lot of steps but, just consider that the more you do it the quicker you become. Remember you are worth it,.. and your future self is worth it! As moms, we do so many things for so many other people. It only stands to reason that ten minutes of pampering each morning should be something we can all do for ourselves.
To make this process easier, I separate my products into two small bins – one for the morning and one for the night. That way I'm not scrambling to remember which products to use when, and it makes the process quicker.
The best part of my skincare over 40 routine is that I no longer have to wear foundation make-up!! This is HUGE for me because I use to wear that stuff like a mask. I was the girl that wore the entire make-up brigade – foundation, powder, blush, eye shadow, mascara, lipstick. But now, my skin is glowing and my cheeks are naturally rosy – so goodbye blush too!
After my morning skincare routine, I apply a quick swipe of mascara, and some lipstick, and am off for my day. Having healthy skin feels so much lighter and better, and it's better for my health.
Night Skincare Product Routine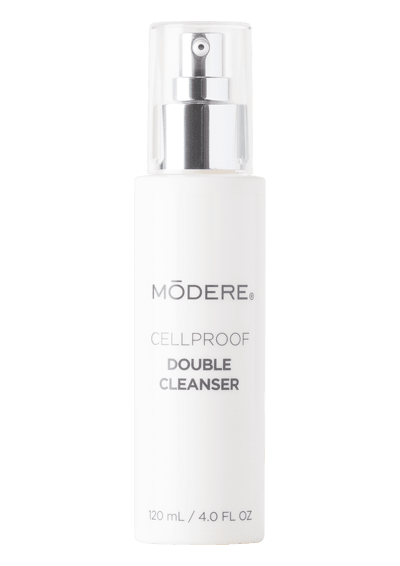 STEP 1
Modere CellProof Double Cleanser
First things first, I again wash my face with the Modere CellProof Double Cleanser. Did I also mention this is a cleanser that clears out dirt and make-up but doesn't disrupt the skin's natural protective barrier? It also doesn't strip the skin of its natural moisture.
BUY Modere CellProof Double Cleanser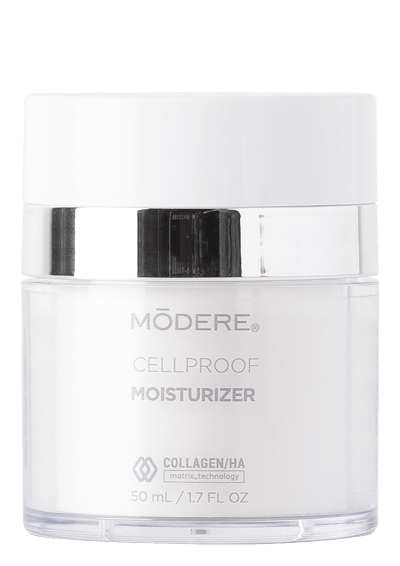 STEP 2
Modere CellProof Moisturizer®
I apply this all over my face and neck. I love applying this at night because it really has a chance to completely soak into my skin and I wake up to a fresh face. Modere's CellProof Moisturizer is designed to reduce the appearance of wrinkles and firm skin and even out your complexion by delivering intense hydration. It even protects against future damage from UV rays and improves the elasticity of the skin. This one is a game-changer.
BUY Modere CellProof Moisturizer®
STEP 3 – Castor Oil by Kate Blanc
I had no idea of the crazy excellent benefits of Castor Oil until I stumbled upon this Castor Oil by Kate Blanc.
Apparently, the fatty acids found in castor oil are incredibly nourishing. Castor oil has helped me and countless other women grow thicker, longer lashes. I apply this lightly over my eyelashes and even my eyebrows – because evidently, eyebrows start to thin out with age.
BUY Castor Oil by Kate Blanc
STEP 4
All Nighter Lip Mask
Want smoother lips? Try this! Just massage your lips with a little bit of honey and sugar at bedtime (I keep a small pre-mixed jar at my sink.) Rinse away the mixture and apply this overnight lip mask. Essentially it's a thick cream designed to deeply moisturize as you sleep. Moisture is the key to looking younger so you can expect younger-looking lips by morning!
BUY All Nighter Lip Mask

If you want even more anti-aging power, as I mentioned at the start of this post, you may want to also consider supplements. I am a firm believer in Modere Collagen. It's easy to take – just a small class of yummy liquid twice daily – and it produces amazing results! You can read more about it in this blog post over here. Or you can buy Modere Collagen at this link for an instant $10 off at checkout. Sign up below for Modere coupons and more ways to save on all Modere products.
So that's it! If it seems overwhelming, just give it time. Anything new can seem overwhelming. If you need to, print out this page and keep it where you can literally go through the steps every morning and night. Having great skincare over 40 is so vital to looking younger longer. Was this post helpful? Contact me and let me know!